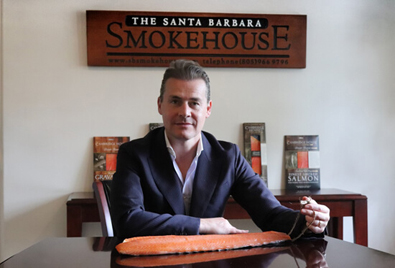 I was born on the Scottish English border in the great city of Carlisle and at the age of 15 years old began practicing the art of traditional salmon smoking. Preserving the authentic heritage of this dying craft became my all consuming passion. I have dedicated my life to the preservation of historic techniques and little known family recipes which had been handed down through generations of skillful craftsmen.
I moved to California in 1999 and brought with me the knowledge and expertise I had gathered. In 2005 I realized my life long dream when I proudly opened our state of the art production facility in the heart of Santa Barbara. Unlike high volume manufacturers who typically burn woodchips on hot plates, our smokehouse burns full logs of oak, applewood and other select woods in an open fire kiln, as it was historically done in Scotland. We are one of the few remaining smokehouses in the world that employ this traditional method of smoking.
With our emphasis on tradition and craft rather than mass production, we proudly produce a very delicate but distinctive tasting smoked salmon that cannot be achieved using conventional modern smoking methods.
Our smoked salmon represents the highest level of quality, taste and texture and we are proud and honored that the worlds premier hotels, airlines, finest restaurants, exclusive resorts and retailers use and enjoy our products.
I proudly present to you the world's finest smoked salmon.
Enjoy!
– Tim Brown, CEO